Grooming Services of Bark
BARK is rated the Best Pet Salon in Jacksonville! Proper grooming does more than simply improve the appearance of your dog. Regular grooming promotes healthy coat and skin, leading to a healthier, happier pet.
We offer grooming services for dogs only. The price of grooming varies depending on the breed, size, condition of the pet, and the hairstyle requested. Please call us for a quote.
Bark on Park in Riverside: 904-356-4530
No Call/No Show Cancelation Policy
Fees will apply. If you cancel your appointment within 24 hours of your appointment time or no show, there will be a $25.00 fee that must be paid before you can reschedule.
Holiday Deposit Policy
Bark on Park will require a deposit when booking grooming appointments on the following dates: November 13-22 and December 12-24. The deposit will go towards the total bill. This will be for Baths, Bath & Tidy's and Full Grooms. Rescheduling less than 24 hours from booked appt time or No- Showing will result in deposit being forfeited.
Our rates vary by breed of dog, coat condition, temperament, weight and size. Pricing will be determined once your pet is assessed at our salon by our groomer. We will not shave double-coated breeds.
$40 and Up
Bath
Includes: Body massage with shampoo and conditioner, brush out and blow dry, clean and pluck ears, nails trimmed, oral spray and finishing cologne/perfume spritz.
$50 and Up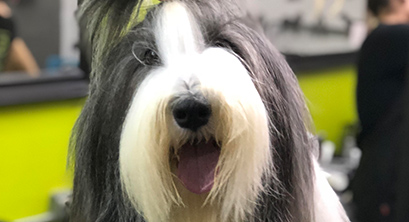 Bath and Tidy
Includes: everything in a Bath along with sanitary trim, feet pads shaved, feet and face trimmed.
$65 and Up
Full Groom
Includes: everything in a Bath and Tidy along with a full body haircut.
Nail polish – $5 per paw
Nail clip – $12 for small, $17 for large
Nail dremel – $17 for small, $22 for large
Nail dremel + clip – $17 for small, $22 for large
Ear cleaning – $12
Anal gland express – $20
Teeth brushing – $12
Fizzy Paw Soak – $12
Paw massage with coconut oil – $12
Flea treatment – $25+
Paw pad shaving – $12+
Sanitary trim – $12+
What Our Most Recent Customers Are Saying