BARK offers training and dog obedience classes in small groups.
Classes include basic manners, obedience, problem solving and socialization.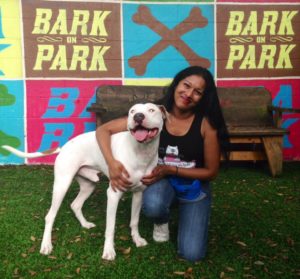 Meet the Trainer
Menoka has been a proud Floridian for over a decade. She graduated from the University of North Florida with a B.A. in 2004. She is the owner of a pocket pit named Trip and an American bulldog mix named Shelby. Menoka came to dog training after being a longtime supporter and volunteer for local animal shelters. Wondering what she could do to prevent dogs from being surrendered and abandoned by their owners for treatable behavior problems, she enrolled in animal behavior college to become a certified dog trainer. Training dogs through positive reinforcement methods to become well-behaved members of their families has been rewarding beyond measure for this to animal lover.
Group Lessons
Puppy Manners – $250
Dog Manners – $250
Both group courses are 1-hour classes per week for 6 weeks.
Guaranteed to pass!
Puppy Manners
Charge the clicker
Touch
Name Game/Find It
Sit/Wait/Watch Me
Recall/Down/Paw/Shake
High Five
Jumping/Stay/Off
Leave It
Leash Walking
House Training
Socialization
Body Language
Mouthing
Chewing
Problem Behavior Prevention
Dog Manners 101
Charge the clicker
Touch
Name Game/Find It
Sit/Wait/Watch Me
Paw/Recall
Stand/Down
Back-up
High-Five
Off/Jumping
Leave It
Spin/Circle Around
Drop It/Take It
Leash Walking
Obstacle Walking
Tricks
Dog Manners 101
Lesson 1
Touch, Sit, Wait, Watch Me, Down & Paw (hand signals only)
Name The Name Game (Find It)
Manners for the Food Bowl, Toys, and Door Access
Lesson 2
Touch, Sit, Wait, Watch Me, Down & Paw (with words)
Recall, Stay, Off, Jumping
Drop It, Leave It
A La Carte (Pick 3)
Jumping
Leash Walking
Chewing
Mouthing/Biting
Housetraining
Drop It
Leave It
Tricks: High Five, Spin, Crawl, etc.
Recall (Come when called)
Stay
Off
What Our Most Recent Customers Are Saying